Regular price
Sale price
$7.00 USD
Unit price
per
Sale
Sold out
Our journey began with a passionate mother of two little kids in the UK. When her youngest son entered the teething phase, his excessive drooling led her to realize that ordinary bibs fell short of the mark. The constant wetness not only led to frequent clothing changes but also triggered skin issues, particularly eczema rashes around necks, chests, and chins. Desperate to find a solution, she began experimenting with different materials and designs.
After many trials and errors, she created a bib that was thick, soft, and incredibly absorbent. Finally, her kid could go for hours without needing a bib or outfit change. This newfound convenience meant no more daily washing machine marathons.
Key features:
Our bibs are the perfect companion during teething, feeding sessions, and various activities.
These bibs go beyond ordinary dribble bibs, offering exceptional soakage capacity to keep your little one dry.
Thanks to their thickness and softness, our bibs allow your child to wear them for extended periods.
Our bibs are crafted with premium 100% cotton on both front and back layers, they are gentle and safe for sensitive and delicate skin.
Our bibs feature a total binding to ensure only soft cotton touches your child's skin, preventing irritation around the neck, chin, and cheeks.
Suitable for newborns up to 36 months, our bibs grow with your child, ensuring long-term use.
Our bibs combine style and functionality, ensuring your little one looks adorable while staying dry and comfortable.
Size
4 poppers ensure secure closures, accommodating narrow, standard, and wide fits with ease.
Each bib measures 30cm in length, 24cm in width, and 16cm from the chin to the bottom.
Materials
Three layers:
Front & back: 100% premium cotton
Middle: 100% fleece polyester
Care Instructions
Simply wash them in cold water, tumble dry at a gentle heat setting, and iron at a low temperature.
Share
View full details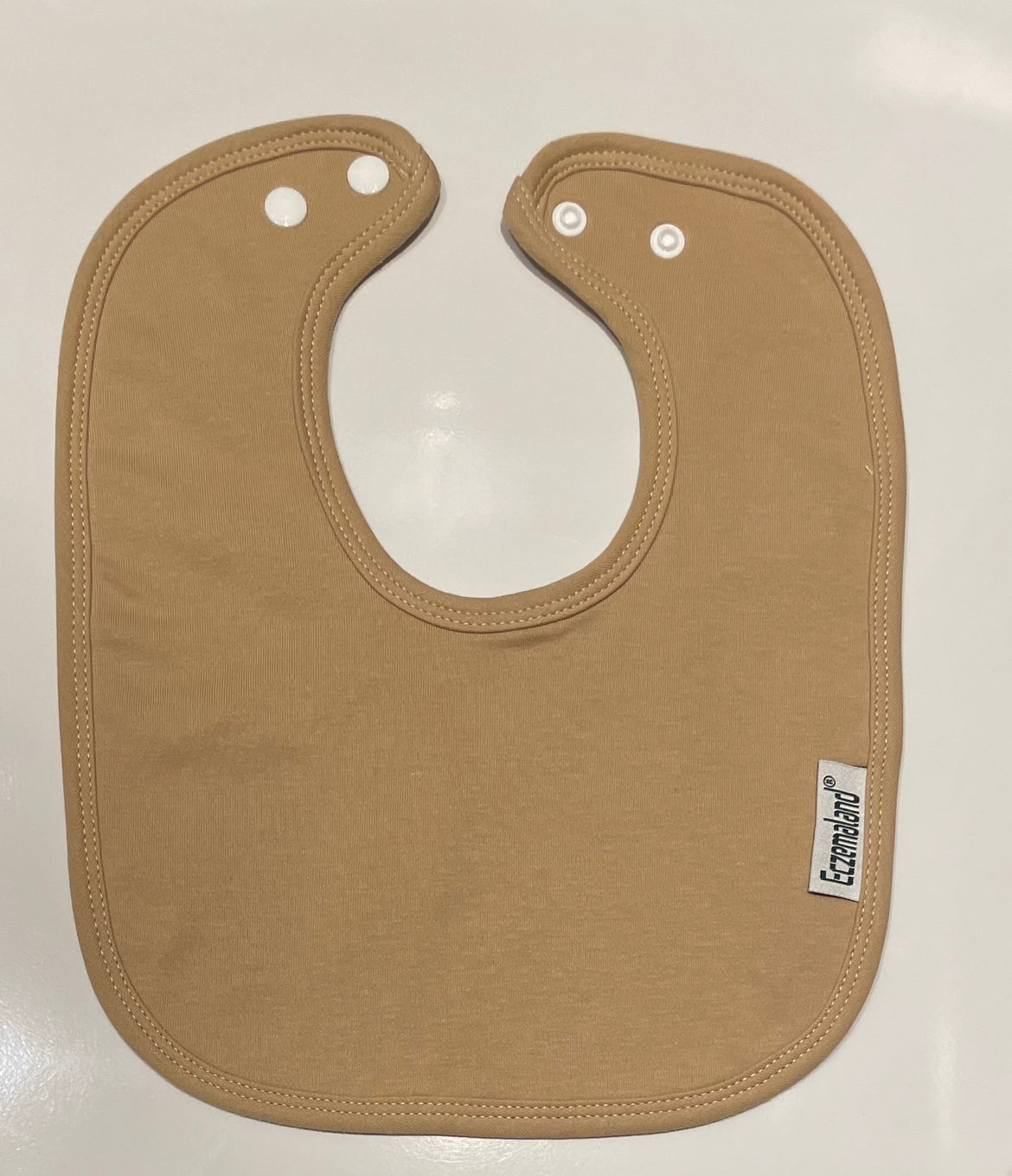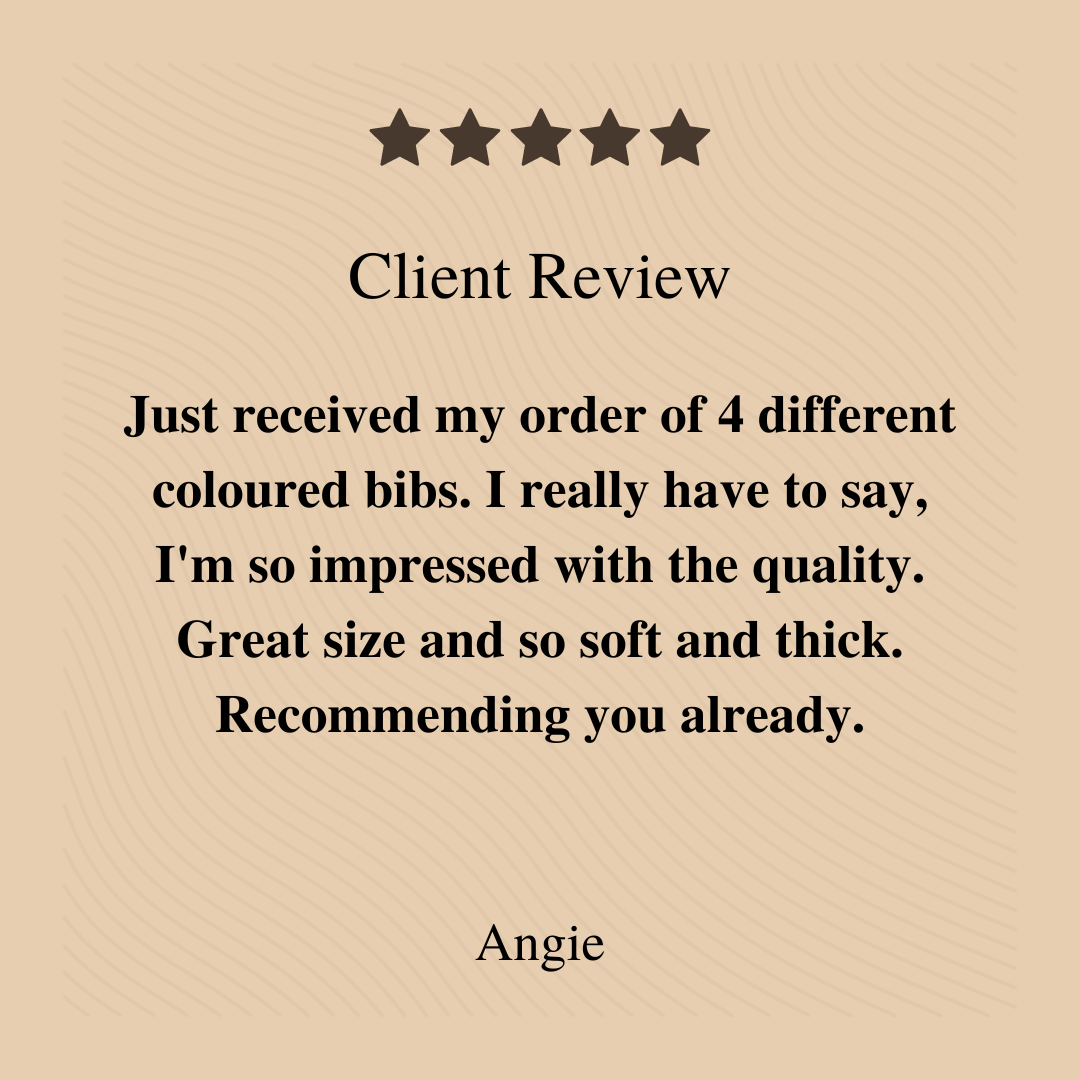 Customer Reviews
10/15/2023
Dawn P.

United Kingdom
Best Bib
Excellent kept my teething baby dry all day
Hi Dawn, Thank you so much for the lovely feedback. Best regards Therese xx
04/25/2023
Boss L.

United Kingdom
Excellent quality material
Amazing bibs, the material is beautiful, soft and absorbent, no other bib comes close, I would highly recommend for dribbly sicky or teething babies
Hi Boss Lady, Thank you so much for the great feedback X
02/19/2023
Jolene

United Kingdom
Amazing!!!
Amazing bibs!! My 21 month old drools non stop, I was doubling bibs as I did in the past just to stop his chest getting wet but I came across these and bought 4 to try and I'm in love, 1 bib does the best part of a WHOLE day, they literally do NOT soak through! I will be ordering more for sure
Hi Jolene, Thank you so much for the wonderful feedback. We are absolutely delighted to hear that our bibs have met your expectations xx